Advanced Course Strangulation Training Institute
Event // Thursday, Oct 20th
Learn tools about strangulation homicide cases like Gabby Petito's.
CASA Pinellas, in partnership with Alliance for Hope International's Training Institute on Strangulation Prevention, is hosting a 2-day advanced course on non-fatal strangulation prevention.
Location: Stetson University College of Law, 1401 61st St S, Gulfport, FL 33707
Days/Times: October 20th 9AM-4PM and October 21st 9AM-3PM
*Lunch & Refreshment Served*
Strangulation ​has ​been ​identified ​as ​one ​of ​the ​most ​lethal ​forms ​of ​domestic ​violence ​and ​sexual ​assault. A victim who is strangled just one time is 80% more likely to be murdered later by that same abuser.
This training will be provided by leading experts in America: Casey Gwinn, J.D., former elected City Attorney of San Diego & official trainer of the Florida Supreme Court and Gael Strack, J.D., Alliance for Hope CEO & national strangulation expert.
This course will aid in the identification, investigation, and documentation of strangulation in intimate partner violence cases. It will cover the following:
Use of experts in court

Tools and resources for advocates

Understanding the lethality of strangulation

Resources and handouts developed by the Institute

Legal aspects of strangulation cases with surviving victims

Identifying the signs and symptoms of strangulation cases

Findings from a study of 300 misdemeanor strangulation cases

Anatomy and medical aspects in surviving and non-surviving victims

Investigating and documenting a domestic violence and sexual assault strangulation case for prosecution
Florida Bar CLEs offered for this training upon completion:
General, 11.0
Criminal Appellate Law, 11.0
Criminal Trial Law, 11.0
Presented by: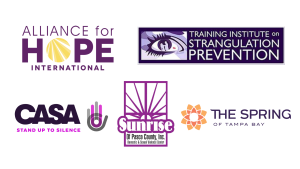 CASA's events offer equal opportunity for individuals with disabilities, in accordance with the ADA. If you require special accommodations please contact us at 727-895-4912 or TTY: 727-828-1269 at least 5 business days in advance.